The Chennai Law Forum is an essential platform for individuals and businesses seeking LEGAL SUPPORT IN FINANCIAL DISPUTES. With the increasing complexity of financial transactions and the ever-changing legal landscape, navigating such disputes can be a daunting task. The Chennai Law Forum firstly provides a forum for individuals and businesses to seek legal assistance and guidance from experienced and knowledgeable attorneys. The forum offers a wide range of legal services, including dispute resolution, arbitration, mediation, and litigation, to help clients resolve their financial disputes effectively. In this article, we will explore the Chennai Law Forum's role in providing legal support to those in need of assistance in financial disputes without a doubt.
Civil Lawyers in Chennai for Financial disputes
Chennai Law forum attorneys in High court are proficient lawyers for financial disputes firstly. In fact, Civil Lawyers here have good track record for defending claims against banks. Of course Civil lawyers in our forum handle cases of contract breach, misrepresentation and personal guarantees.
Moreover, Our Legal team counsels are reputable lawyers in the field of banking and financial disputes. In fact, This forum attorneys have a very high success rate in handling Financial disputes against banks, pensions or insurance cos as a matter of fact. Above all, the legal advisers here handle a wide range of financial crimes and issues in our firm.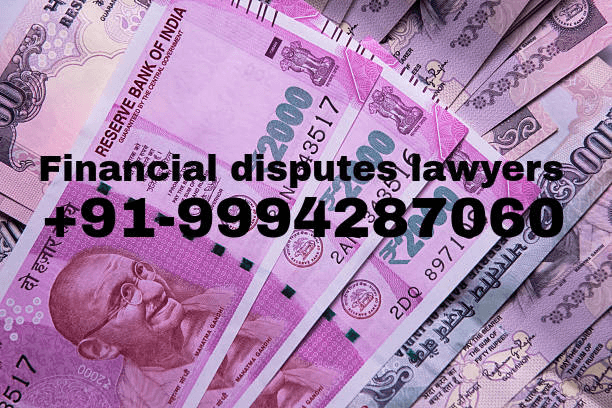 Advisory and legal services in Chennai Law forum
Online fraud
Online banking frauds are the frauds online or mobile banking. A few examples are Fraudulent methods of obtaining customer information, stealing PIN or password, hacked accounts, and stolen CVV & OTP No. etc. You can file a case with an adjudication officer claiming compensation from the bank for lack of security measures.
Loan agreements
When you are taking a loan from a bank, you need to sign a contract. Many people do not under the legal terms of the loan contracts. They are eager to sign on the dotted line to sign the loan amount. This may lead to dire circumstances. It is advisable to consult your lawyer with the loan agreement before signing.
Litigation funding
When a litigant does not money to go to a legal battle, a third party finances the funds for a legal trial. In return, the third party expects a percentage of the compensation amount received by the litigant. The litigant needs to sign an agreement for this. It is wise to consult with your lawyer before signing the agreement for litigation funding.
Personal guarantees
The bank or lender demands a personal guarantee or surety for a loan from a person other than the borrower. It is for the safety of the loan repayment. In case the borrower fails to repay the amount, then the lender can recover the amount from the guarantor. He even has the right to claim the guarantor's personal assets. Hence consult your lawyer before giving surety to anyone.
Hedge agreements
Hedging is like taking an insurance policy. A hedge is an investment. It reduces the adverse price movement risk of an asset. Hedge agreements are very tricky and complex. Consult your advocate before entering hedge agreements.
Negligence on pension funds
It means negligence in the administration and operation of pension funds. It may be mis-selling, scheme document amendment etc. We represent both claimant and the defendants.
An organization can buy another business. The process involves signing various agreements and exchange of funds. Sometimes there may be Financial disputes in acquisition. Your advocate will help you to understand the agreements and aid you to tackle issues.
Corporate and commercial disputes
There may be Commercial disputes between shareholders, directors, and officers of a company. The Financial disputes may be due to conflict of interest.
Finance disputes
financial disputes may be financial Ombudsman claims, Invoice discounting disputes, invoice factoring agreement disputes, Operational disputes of payment systems, bank charges litigation and so on. Our advocates help you in resolving such Financial disputes.
Funding disputes
A third party funds the cost of litigation for the litigant. In case the litigant is successful in the case, the third party claims an agreed amount from the compensation received by the litigation. Some cases involve disputes. Our lawyers will handle such Financial disputes with ease.
Insurance disputes
An insurer may not be happy with the claim amount received. Under such cases, he can take internal resolution by submitting a complaint to the insurer. The external resolution is first you can file a complaint with IRDAI. We will be happy to address your insurance disputes
Intellectual property disputes
There are more issues of Intellectual property disputes dues to the internet. We handle all types of patent litigation, trademark litigation and copyrights litigation etc. Our expert lawyers have many cases of such nature.
Lending disputes
Lending disputes may be a breach of contract, discrimination against borrowers or disputes over loan terms and so on. Our advocate handles all types of lending Issues. By availing of his services you resolve your issue.
Trade finance disputes
lenders finance business operations. Financial Disputes are likely to arise between the lender and the business over loan terms, agreement interpretation, financier claim over assets and so on.
Supplier and supply disputes
Supplier disputes are like delayed supply, defective supply of goods or services, supplier collecting money for free samples and so on.
Debt capital market disputes
The debt capital market involves bonds, debt programs, convertible, warrants, deposit receipts and so on. Disputes may arise in debt capital markets.
Derivative disputes
Our lawyers in Chennai are specialists in handling derivative disputes
Read More
Chennai Law forum team of Civil attorneys Support and representation
Individuals
Property developers
Start-ups
Business owners
Company directors
Retired and Pensioners
Who is the best civil lawyer for Financial disputes litigation in Chennai?
Have you ever had an idea about a civil law firm? Yes, You would have visited many law firms to handle your financial disputes with banks or NBFCs. They may not take up your case because for a simple reason. The simple reason being they do not handle disputes against a bank or NBFC on the other hand.
The team of legal counsels have the all in all skill-set to handle disputes against banks and NBFCs. We are more than familiar to handle customers' disputes against banks. Most of all, Civil vakils in Chennai law forum have good knowledge about lending.
Find Civil Attorneys in Chennai
We have handled cases for and against banks and NBFCs. As such our advice are sharp and informed at the same time. Our Law firm Civil attorneys in Chennai have an in-depth inquiry with our clients and in the end that decide the root of the dispute.
In any case, What else our civil lawyer in Chennai extends his help? First of all, Civil vakils in our forum also assist third-party funding companies. At this point, Civil legal advisers in the Chennai law forum assess your case in depth and estimate its cost and probable success. Based on this we would take up your case for further action
Contact No.1 Civil advocate in Chennai from a leading law firm to solve financial disputes
For any further information or legal support on financial disputes please contact our legal team.